KFC Pakistan Launches New Digital Platform
Simplex Technology Solutions, has reached a significant milestone with the successful launch of the new KFC Pakistan website and mobile App. With mobile-first approach and user-friendly design, the platform caters to the changing preferences of customers who increasingly rely on mobile devices for their online activities. This strategic enablement by Simplex has not only enhanced the user journey but also resulted in increased sales and improved business performance for KFC Pakistan.
To explore the new website and experience the goodness of online ordering, customers and KFC Pakistan enthusiasts can visit https://kfcpakistan.com. The website serves as a gateway to the mouthwatering menu and offers an opportunity to indulge in the delightful world of KFC's finger-licking goodness. Meanwhile, the mobile app is available for download on iOS for App Store and Android from the Google play store, allowing users to access the full KFC Pakistan experience on the go. Registered customers can check out on the web or app in three taps.
The newly launched KFC Pakistan website and app developed by Simplex Technology Solutions have garnered positive feedback for their intuitive interfaces and flawless performance across multiple devices. The responsive design ensures that users can effortlessly navigate the platform, place orders, and explore the menu regardless of whether they are using a mobile phone.
Showcase of the website:
 Mobile view: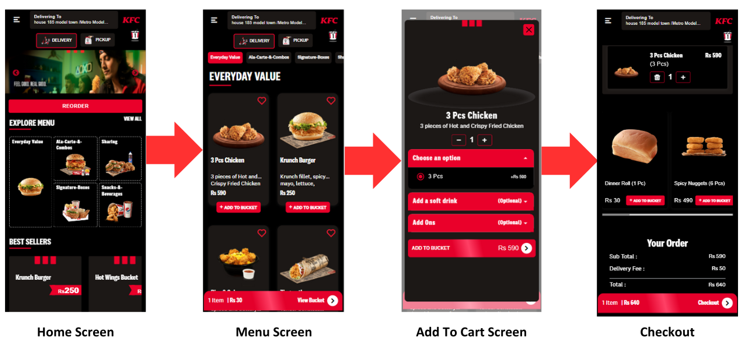 Desktop View:

Furthermore, Simplex Technology Solutions focused on optimizing the user journey to drive sales and enhance customer satisfaction. By carefully analyzing user behavior and preferences, the platform's advanced analytics and tracking mechanisms have provided valuable insights to KFC Pakistan. This data-driven approach enables the brand to personalize the customer experience, make informed business decisions, and continually improve its offerings.
Zeeshan Ali, General Manager of Digital Solutions at KFC, expressed his satisfaction with the website and app developed by Simplex Technology Solutions, stating, "The partnership with Simplex has been instrumental in our digital transformation journey. Their domain expertise and commitment to excellence have significantly improved the overall package, resulting in improved customer engagement and better business results. We are excited about the journey and look forward to garnering further business benefits with state-of-the-art digital tools developed by Simplex for the F&B industry."
Saqib Hussain, Founder and CEO of Simplex Technology Solutions, expressed his excitement about the successful launch, stating, "We are proud to have launched the new KFC Pakistan website, which marks a significant milestone in our commitment to providing exceptional digital experiences. Our e-commerce suite not only enhances the customer journey but also equips businesses with powerful insights for data-driven decision-making. We are confident that the website and mobile app will strengthen the brand's connection with its valued customers and drive business growth."
The successful launch of the user-friendly KFC Pakistan website and mobile app showcases Simplex Technology Solutions' dedication to delivering exceptional digital experiences and driving client success. By providing a seamless and engaging digital platform, Simplex Technology Solutions strengthens the bond between businesses and customers, ultimately elevating the overall experience.
About Simplex Technology Solutions:
Simplex Technology Solutions is a leading provider of innovative digital solutions, offering a comprehensive range of services to businesses in the food industry. With a strong focus on user-centric design and cutting-edge technologies, Simplex Technology Solutions strives to deliver exceptional digital experiences that drive growth and success for its clients.